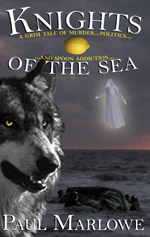 Knights of the Sea
~ A Grim Tale of Murder, Politics, and Spoon Addiction ~

Book Two of The Wellborn Conspiracy
by Paul Marlowe
Trade Paperback ISBN: 9780973950595
E-book ISBN: 9780986497438
April 2010

It's Queen Victoria's Golden Jubilee, and all the Empire is preparing to celebrate. But between suffragists, assassins, submariners, Scots impersonators, by-elections, and aunts, having a quiet holiday is proving to be a tricky matter for Elliott Graven and Paisley DeLoup. And with Alexander Graham Bell hosting a meeting that threatens to plunge the world into war (not to mention making romance dashed difficult), it's all Elliott and Paisley can do to keep their heads above water. Especially after their ship sinks.

~~REVIEWS~~

"Full of humor and references to classical literature, this Victorian tale will appeal to action/adventure lovers as well as those who like a bit of fantasy thrown in...Fun reading that will delight fans of Phillip Pullman..." - Lois McNicol TriState Reviews

"Paul Marlowe's style of humor is reminiscent of Neil Gaiman's lighter works... if you enjoy dry wit, Victoriana/steampunk elements, and plucky teenagers saving the world, you'll probably like Knights of the Sea. It's an tale of high adventure that takes a humorous look at… well, pretty much everything, from politics to romance to lycanthropy. Give it a shot if you liked Stardust or Good Omens." - Kelly Lasiter fantasyliterature.com
"The quirkiness reminds me of Sue Townsend's Adrian Mole series, only with a lot more at stake, say, than the embarrassment of a trip to the ER following unsuccessful glue-sniffing. This is not to say Marlowe doesn't land Elliot in embarrassing situations. At least Adrian didn't also need to diffuse bombs, or associate with suffragettes, German submarine pilots, werewolves, and the Canadian Minister of Justice...The characters are all spot on, from one improbable moment to the next. Marlowe's offbeat humor can even be found in parts of the book where it's least expected". -Janette King, Historical Novels Review
"...the novel has multiple compelling features. It is a fast-paced blend of action-adventure, fantasy and historical novel, with the added elements of erudition, humour and wit. Marlowe's style is reminiscent of 19th century literature, yet timeless enough for a 21st century reader to grasp... Subtly and cleverly, author Paul Marlowe educates readers about the politics and preoccupations of late 19th century Canada." -Ruth Latta, CM Magazine
Our young main characters, Elliott Graven and Paisley DeLoup are enjoyable and most likeable. Mr. Marlowe has done a fantastic job of fleshing them out so that you really get involved in their story. You find yourself fearing for their safety and cheering them on at various points in the plot. As well, all the secondary, and even very minor, characters are unique, odd and extremely entertaining. The story rolls along quite smoothly and quickly from our introduction to Elliott on the Halifax Express in chapter one and all through his near death experiences. Paisley's half of the story includes her many encounters with Adelmo the German adventurer and her quest to learn more about her family's strange legacy. Add on all their bizarre adventures in the small town of Baddeck, Nova Scotia, mix in the author's array of historical facts from the period and you have quite the rollicking tale. I highly recommend this as a fabulous piece of Canadian literature. - Lee Ann Farruga, THE DOMINION DISPATCH, Volume 1 Issue 2.
For historical notes about
Knights of the Sea
,
click here
.
Read a short sample from
Knights of the Sea
here
.
BOL (Germany/Deutschland)

...or order it from your local book shop!