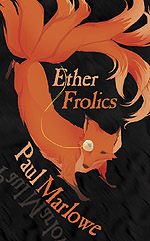 Ether Frolics
Nine Tales from the Etheric Explorers Club
by Paul Marlowe
Trade paperback ISBN: 9780986497483
E-book ISBN: 9781927592038
Published July 2012 by Sybertooth
US$9.99 • CA$10.99 • UK£6.99 • AU$12.99

A collection of nine steampunk stories drawn from the archives of the Etheric Explorers Club, a Victorian society dedicated to exploring the mysteries of the etheric realm: the visions of a Russian painter in fin-de-siècle Paris... a terrible weapon that almost no-one has survived... a confession within a confession... a crime from antiquity resurfacing beneath the Thames... a desperate search for a lost sister... a contemporary horror entwined with an ancient manuscript... an experiment gone wrong... a lost world which should have remained lost... and a night of dining, death, and romance.

~~REVIEWS~~

Short-listed for the 16th annual Danuta Gleed Literary Award recognizing the best début collection of short fiction by a Canadian author.

"Marlowe offers a neatly controlled yet artfully wild and original sense of the bizarre and otherworldly. A unique collection that deserves readers." - Danuta Gleed Literary Award Jury

"Despite being devilishly clever, there's more to Marlowe's debut collection than humour and wordplay... Marlowe's sense of place is dynamic and fresh, for all that his writing is set in the past... what Marlowe has written is a creation well worth the read, revealing a major Canadian talent."- Chadwick Ginther, The Winnipeg Review

"Paul Marlowe has once again written a fine story, but this time he has done it nine times over... I highly recommend Ether Frolics. It is such fine storytelling, you will be so enthralled your tea will go cold!" - Lee Ann Farruga, Steampunk Canada

"This collection of nine short stories is a true jaw-dropping jewel of a book..."
-Aly Grauer, Doctor Fantastique's Show of Wonders

"Marlowe's stories are detailed, quirky, with a good sense of humour, but not without some dark, deft touches of horror..." - Craig Pinhey, Telegraph-Journal

"If you're looking for excellent short steampunk fiction from one author, I would place Marlowe's Ether Frolics on a par with some of Blaylock's short work. Definitely recommended. " - Mike Perschon, Steampunk Scholar

CDON (Finland/Suomen tasavalta)

Booky (Finland/Suomen tasavalta)

Bol.ch (Switzerland/Suisse/

die Schweiz

)

BOL (Germany/Deutschland)

Libri (Germany/Deutschland)

Proxis (Belgium/Belgique/België/Belgien)

...or order it from your local book shop!